Last week's frigid weather firmed up the ice on Paradise Bay, so PABI board member Ron Wojan seized the moment and placed the Ice Classic Buoy for 2019.  This year it is just south of the ferry dock in a place where it can be seen from the Powers' Hardware WVBI Paradise Bay webcam high atop the BIC Center. So, you can easily check on the status of the buoy by visiting the WVBI website and scrolling to the bottom of the page.  Want a bigger view? Click on the image you find there and you'll get it. Here's a current shot: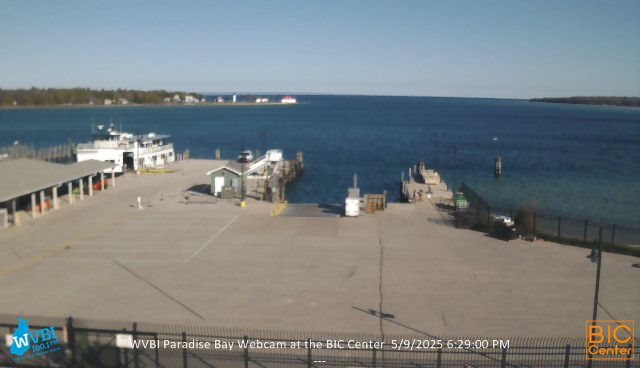 Look over to the right side of the picture just above the lamp post.  That's the buoy.
While you do your analysis to predict when the buoy will go through, don't forget to check out our summer schedule for the BIC Center.  There will be plenty of music, theater, Museum Week events, dinners, craft shows, community meetings and more.  Here's a run down of events:
June 21:  Summer Solstice Party
June 29: Dave Bennett Jazz Quartet 8pm
July 05: CMU Theater – California Suite by Neil Simon
July 06: CMU Theater – Fox on the Fairway by Ken Ludwig
July 10: RFD Boys   8pm
July 17:  BIC Center GALA and Live Auction
July 26: Baroque on Beaver – Lincoln Trio at the Beaver Island Community Center 7:30
July 27: Baroque on Beaver – Jeeyoon Kim at the Beaver Island Community Center 7:30
Check back for more late summer concerts and Museum Week events. You can find a full listing of all summer season highlights on the island at summer.wvbi.net.  When there aren't Saturday shows in the house, blockbuster movies will be on the "Big Screen" with "Big Sound" in the McDonough's Market Theater.
Meantime, winter events continue.  Pickle Ball on Tuesdays and Thursdays from 9:30 to 11:30, Arthritis Foundation Exercise Classes Tuesdays and Fridays from 10 to 11 and Games Galore on Thursdays from 2 to 4.  Also, weekly movies on Saturdays at 4 (note the new time) and 7. Click here for details.
And, don't forget that our annual fund raiser is underway. Scroll down for details or to make your contribution now.
What's at the BIC Center?
Ray & Ann Stanhope Visitor Center
The Ray & Ann Stanhope Visitor Center is a great place to get information, grab a snack, connect to Wi-Fi and kick off your island adventure.  It's also home to the island's community radio station…our very own WVBI-The Voice of Beaver Island.
McDonough's Market Theater
The McDonough's Market Theater is the premier performance space on the island hosting music of all genres, dance, theater productions, movies, seminars and community meetings.
Carol's Hangout
Carol's Hang Out upstairs offers an informal gathering place for meetings, reading, pool, foosball, board games, video games, TV, using our community PCs and printer, and … just hanging out.
Coming to the McDonough's Market Theater
Music, Plays, Graduation & a Birthday
The summer of 2018 kicked off with a road rally, student theater and BICS graduation and continued with music, plays, special community events, yoga and more. Our scrapbook from May to September is here for you to enjoy while we plan another summer to celebrate in 2019.
BIC Center Big Screen
The winter of 2017-18 was packed full of great movies at the BIC Center. Watch them sparkle by to the right. Anything you'd like to see again? Let us know. And let us know what you'd like to see this summer. We'll have movies at 3 and 7 Saturdays, at 7 on Tuesdays and at 3 and 7 on rainy days. Watch biccenter.org for the latest.
Music, Plays & More
The summer of 2017 was truly one to celebrate at the BIC Center--with plays, music from many genres (Classical, Jazz, Celtic, Folk and Country) informative presentations, the Summer Solstice Party, the 2017 Gala, Yoga, tech presentations, rainy day games, trail head information and more. We're planning a similar flurry of events for the summer of 2018.
BIC Center Big Screen
Summer 2017 was big for movies on the big screen at the BIC Center. We presented two movies every Saturday all year and started movie Tuesdays during the summer. Watch them sparkle by to the right. 2018 will be another great year for movies in the Robert Gillespie Memorial Theater.
Plays, Robots & Ice
PABI's spring events included two productions in the Ray & Ann Stanhope Theater, a robot film festival and the classic Ice Classic.
Car #1 Was #1 Again!
The winning team of Diane McDonough, Andy Kohls, Eric Hodgson, Jeanne Gillespie and Kathy Speck has not only Rallied for over a decade, but in past years has organized this PABI annual rite-of-spring. Congratulations for winning the coveted trophy--and continuing a Beaver Island tradition!
Join us
You can help us deliver quality community events and entertainment at the BIC Center and on WVBI by making a contribution.